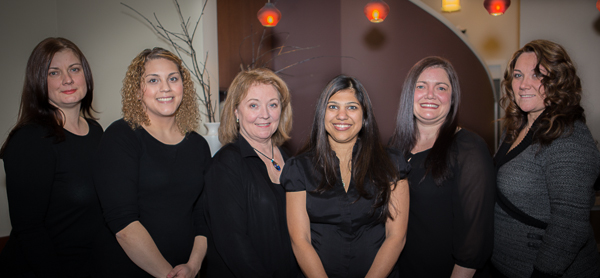 The Avondale Smiles Team
Erin Reilly, Office Manager
My name is Erin. I am the lucky mother of my nine year old son Andrew. I am originally from New York and have lived out here since 2002. In my spare time I enjoy watching my son play football throughout the year as well as watching him train in Karate and Kobudo. I also love to play softball, ski, watch football on Sundays, and last but not least love traveling to see all the beautiful sights that the west coast has to offer, especially Washington State. I have been in the dentistry / insurance field since 1998 and love every minute of it. I am fortunate enough to work with a great team of experienced and knowledgeable individuals that have become like a second family to me.


Sherlin Binny, Front Office Coordinator
Bio Coming Soon


Jeanette Parra, Dental Assistant
My name is Jeanette. I'm originally from California. I have been living in Washington for 14 years. I attended and graduated from Lake Washington Institute of Technology Dental Assistant program. I have been with Avondale smiles since 2013. I'm fluent in Spanish. As a dental assistant my goal is to make sure comfort always comes first!. I believe every visit should be relax, fun and enjoyable. It truly rewarding to see the positive changes that quality dentistry can make in a person's life. In my free time, I love being outside enjoying nature beauty. I love exploring the PNW. My favorite activities are hiking, photography and spending time with my family and friends. It's a pleasure to work with all my teammates. We are more than co-workers, we are friends. I feel very lucky to have a great job and work with such awesome people.


Devin Bradford, Dental Assistant
My name is Devin. I have a wonderful 16 year old son Cameron, my significant other Chad, and our feisty beagle Jack. I grew up in Bellevue and absolutely love the Northwest. I attended the Washington academy of Dental Assisting and graduated in 2002. I really do love being a dental assistant. My goal is to make our patients comfortable, happy and hopefully leave with a smile on their face. I love to laugh and spend time with my family. I always try to have fun no matter what I am doing and appreciate everything I have in life big or small.


Alicja Bae, Dental Hygienist
I am privileged to work as a dental hygienist for such a great team of professionals. I strive to provide all my patients with gentle yet effective dental treatment to improve and maintain great oral health. I moved to Seattle from Poland in 1996 and love my life on the Eastside ever since. In 20O2 I received my Bachelor of Arts degree from UW, and later on, I pursued dental hygiene degree from Lake Washington Institute of Technology. As a hygienist I know how important it is to get to know every patient who walks in to our clinic and make them feel comfortable while in the dental chair. Every patient is a new experience to be thankful for. In my spare time I love exploring the Pacific Northwest and beyond, do hot yoga, play a game of backgammon or chess by the fire or watch a movie on netflix. However, most of all, I cherish spending time with my two children- Jasia and Sebastian and my poodle- Jayden.


Karen Comer, Dental Hygienist
I have been a Registered Dental Hygienist since 1985. Part of my hygiene experience included working at the University of Washington in dental clinical research. So, I am very compassionate about providing my patients the best dental care with commitment to their oral health. When I am not at work or in a continuing education class, I enjoy time with my friends and family including my "boys", my two standard poodles.